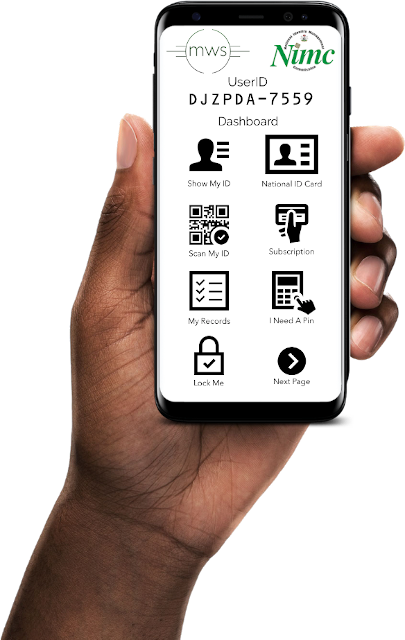 To bring Nigeria to the forefront of Personal Identity in the World, the Federal Government has launched a Mobile ID ecosystem, consisting of a MobileID application, High Performance Middleware, High Availability hardware (with full redundancy) and a set of Application Programming Interfaces (or APIs) to put Identity back in the hands of NIN holders.
The MobileID applications, which are available on Android and Apple iOS, after very stringent testing, proof of concepts and public feedback, have been signed into law as valid means of identification in Nigeria and must be accepted as so.
What is this MobileID all about?
The world is going Digital, and is going mobile at the same time. Many people now conduct their banking transactions via their Smartphones (and even feature phones, using USSD Codes). So why not your Identity Card?
Just as many developed economies have done, Nigeria is launching Mobile Identity in the Palm of your Hand.
You no longer need to face long queues at NIMC Offices nor ask "where is my ID Card?". You can get it yourself.
Both the MobileID and Improved NIN Slip (described below), form a part of the Digital Economy strategy of the Federal Government of Nigeria.
Who is entitled to the MobileID?
Anyone who has a Smartphone running a fairly recent version of Google's Android or Apple's iOS Operating Systems.
You MUST also have an Active NIN, in other words, you must have been issued a NIN Slip by the NIMC in order to provision yourself on the App.
Do I need to go to a NIMC office to onboard, even if I have already been issued a NIN?
No. Once you have your NIN, you may onboard from the comfort of your home.
Isn't this just a fad? Will it be acceptable when I present it?
The Federal Government of Nigeria is issuing these Digital Tokens as valid means of identity in Nigeria. It is thus illegal for anyone to reject them.
Is this MobileID a replacement for the Polycarbonate (plastic ID Card)?
Eventually, yes.
Can I use the MobileID on several phones that I have?
Yes you may.
Are people allowed to photocopy or scan the ID page on my phone?
No. That is illegal.
Can I get a record of the verification made of my Identity?
Yes. Simply visit the Privacy Hub within the App to view all who have legitimately verified your identity.
How safe is this MobileID? What if my phone is stolen?
When you first onboard on the app, you are required to set a 4-6 digit PIN to protect your information. If you forget the PIN, simply dial 000000 three times to reset. If the app locks, no one will be able to get into it unless they know your PIN. Please use a PIN you will remember, and not a simple one that a hacker might quickly guess.
Does the MobileID expire?
Just like your NIN, the MobileID does not expire. For places where you are required to provide a document with an expiry date, the app will show 5 years from the date of issuance, but it will AUTOMATICALLY renew on expiry and there is nothing for you to do or update.
I need my NIN for passport renewal. Where can I find it in the app?
By default, the NIN is protected. Please click on the Tools tab at the footer
I have 3 minor age children. I have linked their NINs to mine. Where can I find their information within the app?
Simply click on Privacy Hub and select Dependents
Can I sign up with my BVN?
Most BVN holders already have a NIN, due to the harmonization being carried out between the NIMC and NIBSS. You are however required to visit a NIMC office or an accredited agent to update your biometrics BEFORE the NIN becomes active. So the answer is no. You need an active National Identitifcation Number (NIN) to provision yourself on the app.
Will I need Internet Access to display my ID?
No. Once you have set up your ID on the app, you are NOT required to have Internet Access to display your ID and be verified. The onus is on the verifier to have Internet Access at all times when they wish to verify another person. Unlike most other ID tokens, the Mobile ID displays very basic information by default. If the verifier needs more information such as your birth date, the will need to ask you to click on a button at the top right corner of the ID Page. It is only then that they can scan the QR Code on the ID page to verify your credentials with this extra info. Whenever you are verified, you will be notified of the verification under "My Records" in the app. The UserID of the Verifier will show there, as well as the type of verification and the date it was done.
I no longer have the number I registered at NIMC with. What do I do?
For you to be able to use the app, you MUST be verified with a Mobile Number. If you no longer have the old number, not to worry. Please visit your nearest NIMC Office to update your mobile number. Thank you.
Can I correct my name or birth date in the App?
Unfortunately, not. The app is READ ONLY. Any changes required can only be carried out in person at a NIMC enrolment centre.
I don't know my NIN. How do I get it?
Please dial *346# from the Number known to the NIMC. Soon you will also be able to send NIN to 346 on any network to accomplish the same NIN retrieval. For security reasons, please and please, protect your NIN as best possible.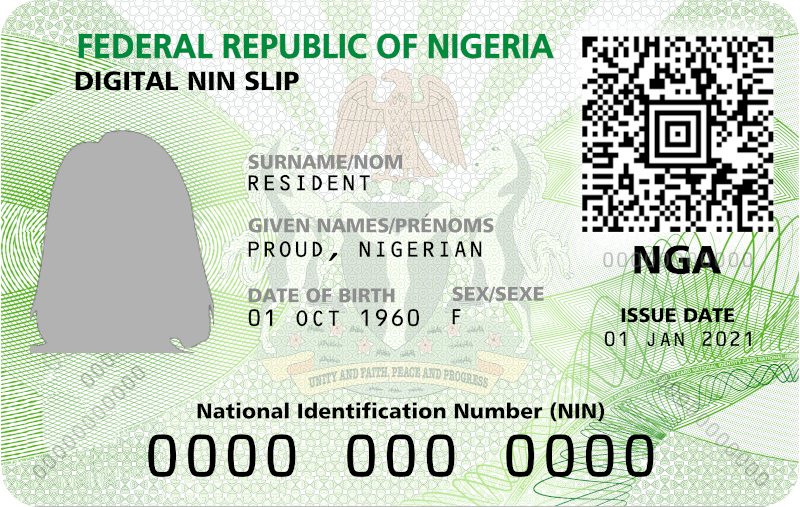 The original NIN slip issued by the NIMC has served its purpose over the years. Citizen feedback had been that the document was not pocket-friendly, required a lengthy verification process and was prone to fraud and unauthorised copying.
The Improved NIN slip is now smaller and more pocket friendly. With the new NIN Slip, only the ID holder reserves the right to make copies of their identity. It comes in 2 sizes, to suit one's pocket but both are available to all NIN holders.
No need to visit the Government offices any longer to retrieve your NIN slip. You may pay for and download the slip at your own convenience.
How does this NIN Slip differ from the older one?
The older NIN Slip is being replaced with a smaller design. It contains less intrusive information (such as your home address), and now can be instantly verified.
Who is entitled to the INS?
New enrolees will be issued the Improved NIN Slip, whilst those who had previously been issued the older one, may purchase the new one for N400 (Standard) or N1,000 (Premium). Taxes apply.
How can I get the new NIN Slip?
You will need your UserID which you may find either by downloading the MobileID app or dialling *346*3# on a Feature phone, from the number registered with at NIMC.
Please note: EVERYONE is entitled to purchase either the Standard or Premium NIN Slip.
Since I have downloaded the PDF, can't I make several copies for myself, just in case I misplace one?
Yes, as the owner of the Identity, you are permitted to make as many copies of the NIN slip as desired.
Do I need to go to a NIMC office to get the NIN Slip, even though I have a NIN?
No. You are NOT required to visit a NIMC office for the New NIN Slip unless you have newly enrolled and are yet to be issued a slip.
I see there are two types of INS – Standard and Premium. Can anyone purchase the Premium or is it for 'elites'?
There are 2 basic designs and form factors. There is no 'elitism' in documents that are available to all NIN holders.
The disclaimer on the back states that my NIN Slip may only be replicated by me. So what happens if I present my NIN slip somewhere and they insist on making a photocopy of my ID?
The terms of the NIN Slip issuance forbids any party except the ID holder from making a copy of the document. The Federal Government treats this as duplicating one's identity. The verifier is expected to scan the barcode so there is a record of the transaction for both the verifier and the ID Holder. You wouldn't let just anyone make a copy of your Bank account - treat your ID the same way.
Does the NIN Slip expire?
Just as your National Identification Number never expires, neither does the NIN Slip.
If I forget my INS somewhere and someone uses the MobileID to scan it, will I be informed?
Yes. Wherever your NIN Slip is scanned, you will be advised within the MobileID app (under My Records). You may then contact NIMC to file a complaint about an unauthorised access to your Identity.
What are my legal options if I take my NIN slip somewhere and it is rejected?
NIMC will be providing contact numbers to an enforcement task force whose job it will be to monitor, investigate and prosecute cases where a person's legitimate credentials are denied or refused due to frivolous excuses such as "Network Issue" or "No Credit". The onus is on the Verifier to meet the requirements for accepting and verifying your credentials.

What is this Virtual NIN and how does this help to protect my Identity?
The Virtual NIN is designed to prevent Verifiers and third parties from storing your NIN and other personal information without your consent or approval.
It also provides a means for you to issue a single-use token to a specific entity. That is you providing your consent, because you know exactly who has access to your data, and not someone piggy-backing on another to gain access to your information.
If I have issued a Virtual NIN to say Bank A, can Bank B or Telco C use the same Virtual NIN to verify my identity?
No. The token is designed to be vendor-specific. If it is issued to Bank A, Bank B WILL NOT be able to verify the information.
How do I prevent the verifier from repeatedly querying my information without my consent?
By its very design, the Relying Party (verifier) will only be able to verify your identity only as many times as the token provides. By default, that is ONCE within a 72 Hour period.
Is the Federal Government going to simply give out my personal Identity to private companies because they need to keep some information on me?
The whole idea behind the Tokenization and enhanced data privacy initiatives, is to ensure that private companies (and Government agencies alike) do not have access to nor be able to lawfuly store your information. If they do (because it is technically possible), it will be illegal and punishable under the Data Privacy laws of the country.
Isn't it NIMC's job to provide Identity verification? Why is it allowing 3rd parties to store my data?
Yes. And that is why Data Privacy is in the forefront of the new Initiatives.
Will I be able to control who verifies my Identity, whether I am present or not?
The entire concept is to put power over your Identity back in the hands of the ID Holder.
What is the cut-over date for the completion of the migration from the current system to the more protected one?
January 31st 2022 No extentions